Muay Thai Training Sessions and More.
Our program includes: Jiu-Jitsu, Wrestling, Conditioning and Muay Thai Training.  Schedule a FREE training session today and take the Muay Thai challenge.
We are currently working off a waitlist. If you are interested and want to get on the waitlist, please Contact Us. Fill out the inquiry form at the bottom of the page, enter your first, last name, email, along with your cell number. When spots open up, we will reach out via email or text, and a trial will be setup. First come, first serve. 
---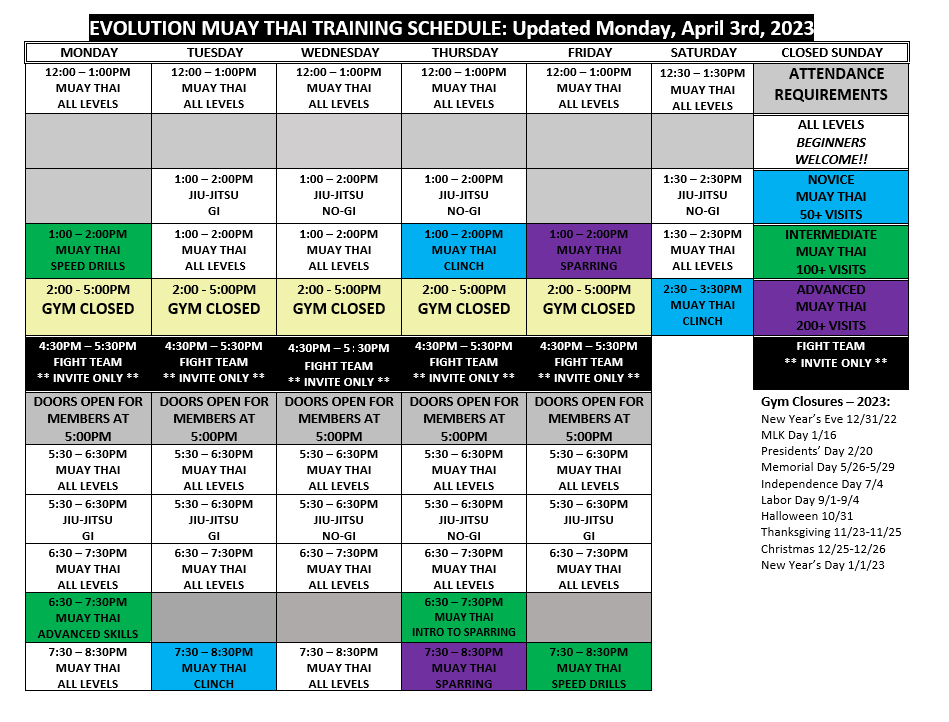 GYM CLOSURES – OBSERVED HOLIDAYS 2023:
New Year's Eve 2022 Saturday 12/31
Martin Luther King Day Monday 1/16
Presidents Day Monday 2/20
Memorial Weekend Friday 5/26, Saturday 5/27 & Monday 5/29
Independence Day Tuesday 7/4
Labor Day Weekend Friday 9/1, Saturday 9/2 & Monday 9/4
Halloween Monday 10/31 
Thanksgiving Thursday 11/23, Friday 11/24 & Saturday 11/25 
Christmas Holiday: Monday 12/25 & Tuesday day 12/26
New Year's Day 2023: Monday 1/1
---
Workout in a fun atmosphere where you'll be encouraged to push yourself to your limit and to never give up. Surrounded by individuals who are looking to get into shape, teammates who are competing, and everyone is working together to take their training to the next level as a team.
Our program offers high intensity workouts. Great for losing weight and learning self defense. 
Stepping into a Muay Thai gym can be a little intimidating. Here at Evolution Muay Thai we do our best to make you feel at home by cracking a few jokes and keep things lighthearted. We do our best to make your training experience as fun as possible.
For current pricing options, or to get general information about our facility, please fill out the inquiry form at the bottom of the Contact Us page.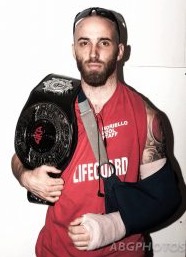 "The training atmosphere and quality of instruction from Brandon Levi is what made me choose Evolution out of all the other Muay Thai gyms in the city. It's setup perfectly for all skill levels so everyone can advance at their own pace. They also have a solid group of fighters who I was fortunate enough to work with who helped me become a WKA a champion and defend another title while I was there. I highly recommend Evolution to everyone who asks me what gym to train at in NYC!" ~ Sean Fagan