Our instructors will push you to your limits. From losing a few pounds to becoming a serious athlete.
We are here to help you achieve your goals. 
Evolution Muay Thai – Instructors:
---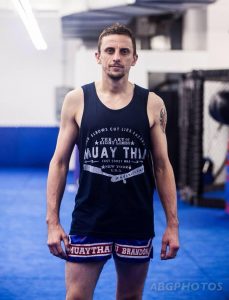 Brandon Levi opened Evolution Muay Thai after competing in both Australia and Thailand. He has trained in Australia, Thailand, New York and London.
He can best be described as a Larrikin. A jokester at heart, Brandon believes that you don't have to be deadly serious all the time to train effectively. His sense of humor is crass, crude and a little shocking at times, but never malicious. This humor helps alleviate the tension one would otherwise feel when first joining a gym, and makes the workout seem less tortuous than it actually is.
With over 25 years experience in Muay Thai, Boxing, Brazilian Jiu-Jitsu and freestyle Karate, Brandon has a wealth of knowledge to pass on to his students. Over the years Brandon's unique teaching style he has cultivated a diverse atmosphere, community, and a home away from home for his students. With a stellar reputation Brandon has become a coach to quite a few instructors from various gyms throughout NYC.
His laid-back, easy going nature combined with his unique teaching methods, keen eye for technique and excellent work ethic make him one of the most popular and respected coaches in the Muay Thai community.
Brandon has endeavored to create an atmosphere of acceptance and equality within the walls of Evolution Muay Thai. Everybody is treated equally, regardless of gender, sexual orientation, race, religion or political affiliation. No matter what your heritage or background, you will find a home at Evolution Muay Thai. The only pre-requisite is a sense of humor.
"Leave your ego at the door and be prepared to sweat." ~ Brandon Levi
---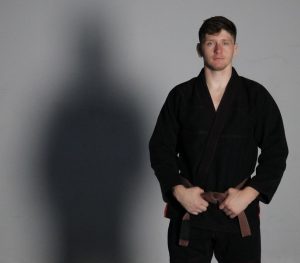 Hunter Phares originally from Battle Creek, Michigan, Hunter is one of six boys.
After wrestling in high school, he served in the U.S. Army Infantry Division before moving to NYC to follow his dreams of being a grappler.
Training under the legendary Marcelo Garcia, Hunter received his brown belt in 2019.
He has competed on Rise Submission Invitational, and 2019 IBJJF Worlds. Hunter continues to show he has the skills and the heart to be a champion.
Since COVID, Hunter has been training under Paulo Miyao in Jersey City.
With a comprehensive understanding of both Gi and No-Gi, Hunter is known for his arm bars, guard passing and his ability to get to the back.
Hunter's journey continues. He has taught before but this is his first time running a complete program. He is excited for this next chapter in his story and looks forward to creating future champions on the mats at Evolution Muay Thai.
---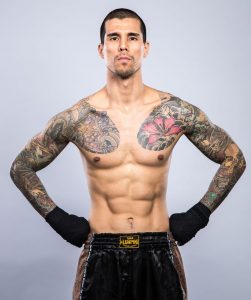 Brian Kemsley Born in Taiwan, but raised in Hong Kong, Brian moved to the US at 15. He was involved in the punk / hardcore music scene in Seattle, Washington and played in bands that toured both domestically and internationally. Brian was introduced to straight edge through the punk scene, and still maintains a drug and alcohol free life style today. He eventually moved to NYC to join another punk band called "Outbreak" and continued touring the world. The hardcore scene can get pretty rough and Brian constantly found himself around violence at shows.
After one particularly nasty incident in which he received stitches in his head thanks to a pair of brass knuckles, Brian decided it was time to learn how to fight for real.
He dabbled in Jeet Kune Do and Brazilian Jiu-Jitsu before discovering Muay Thai.
Once he got a taste for Thai style boxing, Brian was hooked. He eventually joined Evolution Muay Thai in 2014. Other southpaw added to the Evolution fight team.
Since then Brian has won first place in an 8 man WKA tournament 2016, and in 2018 won the USMTO title for middle weight.
Brian returns to South East Asia – particularly Thailand – for three to four months every year. While he is there, he trains at a couple major camps, and brings what he learns back home to NYC.