Our instructors will push you to your limits. From losing a few pounds to becoming a serious athlete.
We are here to help you achieve your goals. 
Evolution Muay Thai – Instructors:
---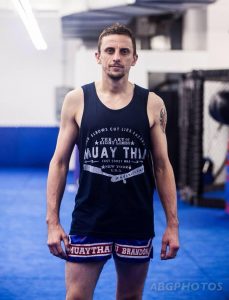 Brandon Levi opened Evolution Muay Thai after competing in both Australia and Thailand. He has trained in Australia, Thailand, New York and London.
He can best be described as a Larrikin. A jokester at heart, Brandon believes that you don't have to be deadly serious all the time to train effectively. His sense of humor is crass, crude and a little shocking at times, but never malicious. This humor helps alleviate the tension one would otherwise feel when first joining a gym, and makes the workout seem less tortuous than it actually is.
With over 25 years experience in Muay Thai, Boxing, Brazilian Jiu-Jitsu and freestyle Karate, Brandon has a wealth of knowledge to pass on to his students. Over the years Brandon's unique teaching style he has cultivated a diverse atmosphere, community, and a home away from home for his students. With a stellar reputation Brandon has become a coach to quite a few instructors from various gyms throughout NYC.
His laid-back, easy going nature combined with his unique teaching methods, keen eye for technique and excellent work ethic make him one of the most popular and respected coaches in the Muay Thai community.
Brandon has endeavored to create an atmosphere of acceptance and equality within the walls of Evolution Muay Thai. Everybody is treated equally, regardless of gender, sexual orientation, race, religion or political affiliation. No matter what your heritage or background, you will find a home at Evolution Muay Thai. The only pre-requisite is a sense of humor.
"Leave your ego at the door and be prepared to sweat." ~ Brandon Levi
---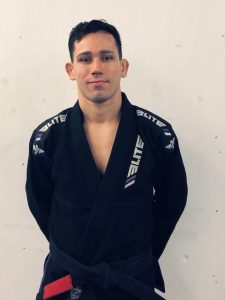 Chad Andrew Vazquez is a black belt under the Gracie Barra lineage.
Chad has competed at NAGA, NY Open, No-Gi Pan Ams, Good Fight, and grapplers quest earning several gold, silver, and bronze medals from Gi and no-grappling tournaments.
Chad won the WKA 155 lb MMA title in 2012 and the UCL 155 lb title in 2014.
While Chad has spent most of the last 11 years focusing on Brazilian Jiu-Jitsu, he understands the importance of incorporating other disciplines such as Muay Thai, wrestling, and Judo for MMA.
This, among other things is one of the main reasons Chad chose Evolution as his  base of operations.
The opportunity to study multiple styles under top notch instructor in a happy, laid back atmosphere is something that Chad hopes all of his students make the most of.
Chad was first introduced to Jiu-Jitsu  through a youth program offering free lessons to teens and kids in his home town (white plains) in 2007.
Since then, Chad has transformed from an insecure youth with low self-esteem to a confident adult with a happy, healthy life-style and positive mindset. Chad is now set to share that knowledge with his students, in the hopes that someday, they too will be able to help others.
---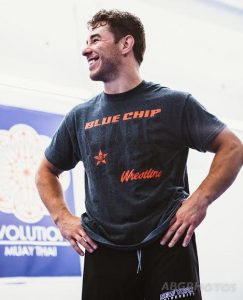 Gene Kobilansky, one of New York University's most decorated wrestlers, is the assistant coach of the NYU Wrestling program and is currently working with the team's middleweights.
A 2007 NYU graduate, Gene was a four-year member of the wrestling team. He compiled 118 career victories, the third-highest total in program history. Gen recorded 64 wins at 141 pounds, the most ever by an NYU grappler, while his 48 victories at 149 pounds remains the second most at that weight class.
During his NYU career, Gene earned University Athletic Association (UAA) Rookie of the Year honors, UAA Most Outstanding Wrestler accolades as a senior, was a three-time National Wrestling Coaches' Association Scholar All-American and UAA All-Academic honoree, an 11-time UAA Athlete of the Week selection, and was the only three-time NCAA Championships qualifier in NYU program history. On May 5th, 2018, Gene Kobilansky was inducted into the NYU Athletics Hall of Fame.
Gene is the founder of Flow Athletics, with the mission of helping athletes improve their mental game. Follow his writing on Nutrition, Mindset, Technique and Supplements on the Flow Athletics blog.
After discovering Brazilian Jiu-Jitsu, Gene went on to win a silver medal at the Pan Am Games in 2012. He also currently does private instruction with aspiring Mixed Martial Arts (MMA) fighters.
Gene Kobilansky is one of our coaches and teaches every Monday night at 7:30pm.
"The art of living is more like wrestling than dancing in that you have to stand firm and be ready for whatever comes your way."~ Marcus Aurelious
---
Jeremy Sanchez aka Latino Bruce Lee started training with Evolution Muay Thai at the age of 16. Initially Jeremy's intentions were to compete in MMA so he began his training in Muay Thai, Brazilian Jiu Jitsu, and Wrestling. It didn't take long before his ambitions of wanting to fight and making a name for himself took center stage.
Currently Jeremy holds five (5) championship belts in Muay Thai:
2017 – TBA Classic World Expo – B Class (USMF)
2018 – Warriors Cup – (USMTA)
2018 – Triumph Kombat (UMMAF)
2019 – Warriors Cup (UMMAF)
2019 – Friday Night Fights (ISKA)
Jeremy continues to hone his craft and has set his sights on being a world champion in Muay Thai and eventually crossing over to the UFC and earning a shot at the bantamweight title.
"Teaching becomes very satisfying when you see a student of yours click on what is being taught. If someone is struggling to understand the mechanics of a hook, and you're able to explain and correct it on the fly, that "aha" moment for the student feels great."
---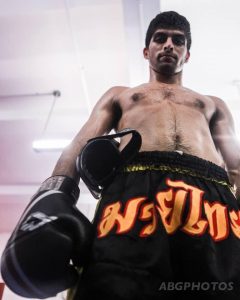 Adel Hussian aka "Hairy Legs" walked into Evolution Muay Thai less than a month after the gym opened in May, 2010. He was 15 years old.
When he joined Evolution, Adel had never done any martial arts before. He worked every day to improve himself, constantly harassing Coach Brandon and the other instructors with a barrage of weird technical questions which he then put into his training.
Before long he had developed his own unique style, one which continues to evolve. Adel is never satisfied with the normal way of doing things. He is always looking to find a better, more economical, or unpredictable approach to fighting.
This, combined with his incredible work ethic, ridiculous stamina and abundance of heart, have earned him his spot as the captain of the fight team.
Winning the WKA Nationals in 2012, placing in 2015 – despite being bumped up to a higher weight class – as well as placing at the WKA World Championships in 2015 solidified his position as one of the top fighters in the country for his weight class.
Today Adel teaches several classes at Evolution Muay Thai, as well as covering for Coach Brandon when he travels with the team. Adel assists in training the other fighters on the team and is available for private lessons.
---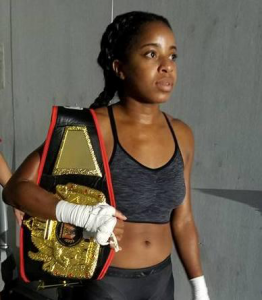 Raquel Harris started her martial arts journey at the age of 15 with Shotokan Karate. After earning her black belt, Raquel decided she wanted to expand her knowledge base and began studying Judo. From there she moved on to boxing and kickboxing.
Challenging herself to compete in boxing and muay Thai, Raquel had mixed success. After competing on the "Glory New York" international kickboxing show, she joined Evolution Muay Thai.
After a brief settling in period, Raquel began competing under the Evolution banner.
Raquel learned quickly that nothing worth doing is ever easy. Knuckling down and doing the hard work, day in, day out, has reaped many rewards for this promising young fighter.
At the time of this writing, Raquel Harris holds five (5) championship belts and (1) Gold Medal;
2015 – Friday Night Fights (WKA)
2015 – Warriors Cup (USMTA)
2016 – WKA Nationals – Muay Thai (WKA)
2016 – WKA Nationals – K1 (WKA)
2016 – Warriors Cup (USMTA)
2016 – WKA Worlds – K1 Medalist (WTKA)

When she is not training for competition she is working with private clients. As an instructor she always gives 100% and strives to pass on the knowledge that her coaches have passed to her. She enjoys teaching and helping people of all ages, especially beginners.
Raquel's martial arts journey is far from over. Currently focusing on grappling arts, she plans to make her MMA debut soon. Keep an eye out for this exciting young champion.
---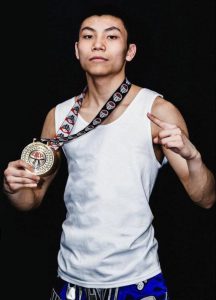 Justin Ng started boxing at the age of 11. He found he had a passion for fitness and competition. Whether it was boxing, jumping rope or playing thumb-wrestling with his brothers, he always wanted to be the best.
At the age of 14, Justin joined Evolution Muay Thai. It wasn't long before he felt the old familiar itch to compete. After earning his spot on the fight team he began participating in local, national and then international tournaments.
Justin has learned that a fighter's heart is not enough to win. Victory requires dedication and a willingness to work hard, even when nobody is looking.
Since joining Evolution, Justin has won to 2015 WKA North American National Muay Thai Championship, and represented the United States of America at the WKA Unified World Championships, where he won two silver medals.
Whether it be competition or teaching, Justin always brings his competitive nature and his impeccable work ethic to every situation. As a instructor his workouts are goal-oriented, practical and geared towards maximizing results for his clients and his team.
"No man or woman who tries to pursue an ideal in his or her own way is without enemies." ~ Daisy Bates
---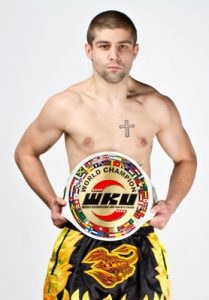 Bartosz Botwina (known to his friends as either Bart or Bartek) is a professional muay Thai fighter from Bialystok, Poland.
With a combined record of over 79 fights, with 60 wins, 12 of these coming by way of knockout (as of 7/15/17), Bart is a seasoned fighter with an exciting, explosive, southpaw style. Modeling himself on great left handed fighters such as Yodsanklai Fairtex and Giorgio Petrosyan, Bart uses a combination of mobility, speed and power make him a nightmare for his opponents.
Bart found May Thai at the tender age of 13. Before that he was interested in football (soccer), but once he discovered the dance of eight limbs, all other sports faded into the background.
Training under respected Belarusian coach, Marcin Stankiewicz, Bart started competing six months after he took up the sport.
In Poland you must be over the age of 16 to compete, so Bart and Coach Marcin were forced to travel internationally for competition. He got off to a great start, winning the Belarus Cup in Minsk in his very first outing.
His second fight was for a championship in Russia, but at the age of 14 he found himself matched up against a 21 year old and experienced his first loss.
Rather than discourage him this loss actually inspired Bart to train even harder and by the time he reached 16 years of age, he had won so many fights he started to attract attention throughout the European muay Thai and kickboxing community.
From 16 to 18, Bart competed regularly in Poland, never losing a match.
It helped that Bart's parents were Physical Education teachers. With their help and support he slowly, day by day, molded his body and mind into the champion he would become.
As an adult, Bart continued his rise within the fighting ranks, fighting and beating some of the best in Europe before deciding that America was the place he wanted to be.
Moving to New York City in 2015, Bart showed up at Evolution Muay Thai one afternoon, asking to train with the team. He was humble and friendly, with no ego. He stepped into the beginner class, despite having more fights than anybody at the gym and did not join the advanced class until invited by Coach Brandon.
That is the nature of this young man. He does not expect anything from anybody. He is willing to earn everything he gets and that is one of the things that makes him such an excellent nak muay.
On July 14, 2017, Bart realized a lifelong dream. Fighting at Madison Square Garden on the Glory World Series kickboxing show, Bart defeated fellow European professional, Chris Lekusa in a great fight.
Bart's sights are now set on the next show and the next opponent.
One of Bart's other long-term goals was to become a good coach.
---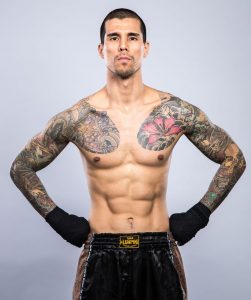 Brian Kemsley Born in Taiwan, but raised in Hong Kong, Brian moved to the US at 15. He was involved in the punk / hardcore music scene in Seattle, Washington and played in bands that toured both domestically and internationally. Brian was introduced to straight edge through the punk scene, and still maintains a drug and alcohol free life style today. He eventually moved to NYC to join another punk band called "Outbreak" and continued touring the world. The hardcore scene can get pretty rough and Brian constantly found himself around violence at shows.
After one particularly nasty incident in which he received stitches in his head thanks to a pair of brass knuckles, Brian decided it was time to learn how to fight for real.
He dabbled in Jeet Kune Do and Brazilian Jiu-Jitsu before discovering Muay Thai.
Once he got a taste for Thai style boxing, Brian was hooked. He eventually joined Evolution Muay Thai in 2014. Other southpaw added to the Evolution fight team.
Since then Brian has won first place in an 8 man WKA tournament 2016, and in 2018 won the USMTO title for middle weight.
Brian returns to South East Asia – particularly Thailand – for three to four months every year. While he is there, he trains at a couple major camps, and brings what he learns back home to NYC.