antz
Our instructors will push you to your limits. From losing a few pounds to becoming a serious athlete.
We are here to help you achieve your goals.
Evolution Muay Thai – Instructors:
---
Brandon Levi opened Evolution Muay Thai after competing in both Australia and Thailand. He has trained in Australia, Thailand, New York and London.
He can best be described as a Larrikin. A jokester at heart, Brandon believes that you don't have to be deadly serious all the time to train effectively. His sense of humor is crass, crude and a little shocking at times, but never malicious. This humor helps alleviate the tension one would otherwise feel when first joining a gym, and makes the workout seem less tortuous than it actually is.
With over 25 years experience in Muay Thai, Boxing, Brazilian Jiu-Jitsu and freestyle Karate, Brandon has a wealth of knowledge to pass on to his students. Over the years Brandon's unique teaching style he has cultivated a diverse atmosphere, community, and a home away from home for his students. With a stellar reputation Brandon has become a coach to quite a few instructors from various gyms throughout NYC.
His laid-back, easy going nature combined with his unique teaching methods, keen eye for technique and excellent work ethic make him one of the most popular and respected coaches in the Muay Thai community.
Brandon has endeavored to create an atmosphere of acceptance and equality within the walls of Evolution Muay Thai. Everybody is treated equally, regardless of gender, sexual orientation, race, religion or political affiliation. No matter what your heritage or background, you will find a home at Evolution Muay Thai. The only pre-requisite is a sense of humor.
"Leave your ego at the door and be prepared to sweat." ~ Brandon Levi
---
Suleyman Samet Goktopal was born and raised in Samsun, Northern Turkey. Suley's grandfather introduced him to boxing at an early age. When he turned 15, he took up boxing for two years and really enjoyed his time in the ring.
At 19, he joined the navy. Upon leaving the navy two years later, Suley decided to get back into fight sports. With a solid foundation in boxing, he became interested in MMA. He joined a local MMA gym in his home city and discovered a natural talent for grappling. The MMA program was geared towards takedowns and limited wrestling and did not have a JiuJitsu program. Suley took matters into his own hands. He studied JiuJitsu techniques on YouTube for a year, teaching himself and practicing with his friends. This ignited a spark and Suley decided to move to another city and find an academy that focused on JiuJitsu.
In 2018 he moved to Istanbul and joined The Last Round HQ. His Jiu-Jitsu rapidly improved.
Next he moved to Cyprus and became Assistant Coach at the Near East University. This gave him the opportunity to travel and compete.
After competing at IBJJF World Masters in 2019, Suley moved back to Istanbul were he received a coaching position at The Last Round. For the next two years Suley ran their JiuJitsu and Grappling program.
In 2021 he flew to Las Vegas, USA, where he took first place at the World Masters.
He moved to New York City. Suley trained briefly at Renzo Gracie Academy before switching to Glory Martial Arts Center in Bayside, BK. There he met and trained with the world famous Miyao brothers who invited Suley to train with the #Quaranteam at UFC Gym in Jersey City. Suley received his purple belt on the podium after winning Pan Ams in 2022.
When the Miyao brothers opened Studio 1908, in Jersey City,  Suley decided to continue his training with the Miyao's full time. He received his brown belt from Paulo and Joao in July 2023.
Coach Suley is an active competitor, with an impressive record. His attention to detail and ability to break down technique instills an
intensity on the mats and is a testament to how seriously he takes JiuJitsu. Training with Suley is no walk in the park. He demands the best from his students and in return, he introduces them to the most up-to-date, cutting edge Brazilian Jiu Jitsu techniques available today.
Below are some of Coach Suley's achievements as of 2023:
2021 – IBJJF World Masters (M1 – Blue Belt)
2022 – Pan Ams (M1 – Blue Belt)
2022 – IBJJF World No-Gi (M1 – Purple Belt)
2022 – IBJJF World Masters (Purple Belt)
2023 – AbuDhabi Grand Slam (M1 – Brown Belt)
2023 – IBJJF Houston Fall Intl Open (M1 – Brown Belt)
Available for private lessons by appointment.
---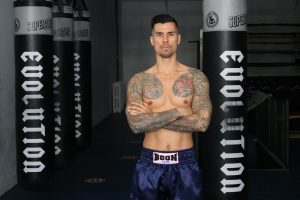 Brian Kemsley was born in Taiwan and raised in Hong Kong, Brian moved to the US at 15. Brian spent his late teens to mid twenties playing in the punk / hardcore band 'Outbreak', which toured both domestically and internationally.
The hardcore scene can get pretty rough and after one particularly nasty incident in which he received stitches on his head thanks to a pair of brass knuckles, Brian decided it was time to learn how to fight to better defend himself and others.
Years later, in a "going full circle" kind of way, Brian will use his martial arts training to thwart a kidnapping attempt in NYC. But before all that, while deciding which martial art to pursue, Brian dabbled in Jeet Kune Do and Brazilian Jiu-Jitsu before discovering Muay Thai. Once he got a taste for Thai style boxing, Brian was hooked.
Brian joined Evolution Muay Thai in 2014. Since then, Brian has won first place in an 8 man WKA tournament in 2016, and the USMTO middleweight title in 2018. Brian has fought professionally in Thailand where he spends months training each and every year. He has taught seminars in a few different states and countries, and in his travels, Brian trains at different camps around the world and brings what he learns back home to NYC.
---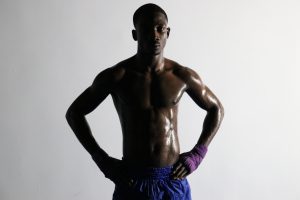 Frantz Pierre was born in Cap-Haitian, Haiti. He grew up in the middle of a civil war. He remembers smelling burning tires and hearing gunshots from his home as a child. Something about growing up in a war zone changes a person.
Life becomes clearer, more defined. You learn early on that you have to fight for anything you want. Even after moving to Jamaica, Queens, he has retained that will to fight and determination to be better.
Frantz has been training Muay Thai since January 2018 under Brandon Levi. Frantz is a natural athlete. He is a quick learner and has a great work ethic. Frantz loves Muay Thai because it allows him to express himself. Through rigorous training. He has come to understand himself better as a person, a martial artist and as a fighter. Frantz enjoys the challenge of competing and the feeling of accomplishment that comes with victory. He sees every opponent as a puzzle to solve and every fight as a chance to hone his skills.
As a fighter, Frantz has evolved a lot. At first, he was known for his sweeps. His first nickname was "The Swiffer." Then he became known for chopping leg kicks and counter-attacking. Next was clinch. His neck-wrestling and head control, combined with his talent for sweeps, became a nightmare for his opponents. From there he began working on his boxing. In particular his right cross and his liver shot won him several KOs. Frantz continues to work on improving his technique and developing different games for different opponents. He is a positive and encouraging person who is always willing to help others. Despite being the top fighter at Evolution, Frantz still takes at least one all-levels class at Evolution, every day. His success in competition has not gone to his head.
When he is not training, Frantz is studying to get his BA in Business Management. Frantz is a valuable asset to the Evolution Muay Thai gym and is a role model for many of the other fighters. He is a true inspiration. Frantz is a great example of what can be achieved through hard work and dedication.  He also just really loves knocking people out.
2022 – TBA Tournament 132 lb Men's Class B title
2022 – WBC National Ranking Qualifier & Warriors Cup 135 lb title
2022 – Gamma 135 lb title
2023 – WBC 135 lb title
2023 – WBC 135 lb defended title
Frantz teaches several classes at Evolution and is available for private lessons by appointment.
---
Jhon Robinson was born in Venezuela, and raised in Queens, Jhon was introduced to martial arts as a child. He achieved the rank of red belt (one rank below black belt) in Taekwondo, before moving to boxing. After a couple years of boxing, he grew bored and moved on to other sports.
It wasn't until Jhon was in his twenties that he decided to get back into martial arts. After hearing Joe Rogan talk about how good Muay Thai was on one of his podcasts, Jhon decided to give it a go. He began training at Evolution Muay Thai in 2019.
As started, Jhon was hooked. He knew he wanted to compete. Throughout lockdown he trained wherever and whenever he could, hungry to learn and improve. He followed Evolution and
coach Brandon Levi from their original location on 27th street, to their temporary spot on 25th street and finally to their new permanent home on 35th street.
He had his amateur debut in February 2022. Since then, he has kept busy, fighting almost every month. Leaving his day job, Jhon has dedicated himself 100% to fight training. He trains six days per week, at least four hours per day. One of Jhon's biggest role models is Muhammad Ali, who he admires for his ability to become more than just a fighter. Ali was a beacon of hope and positivity for millions, and Jhon hopes to emulate his example. He wants to use his platform as a fighter to inspire others and make a positive impact on the world.
Jhon is available for private lessons. Bookings are made through Evolution Muay Thai.
---