Our instructors will push you to your limits. From losing a few pounds to becoming a serious athlete.
We are here to help you achieve your goals. 
Evolution Muay Thai – Instructors:
---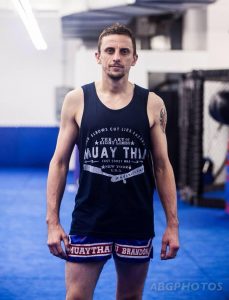 Brandon Levi opened Evolution Muay Thai after competing in both Australia and Thailand. He has trained in Australia, Thailand, New York and London.
He can best be described as a Larrikin. A jokester at heart, Brandon believes that you don't have to be deadly serious all the time to train effectively. His sense of humor is crass, crude and a little shocking at times, but never malicious. This humor helps alleviate the tension one would otherwise feel when first joining a gym, and makes the workout seem less tortuous than it actually is.
With over 25 years experience in Muay Thai, Boxing, Brazilian Jiu-Jitsu and freestyle Karate, Brandon has a wealth of knowledge to pass on to his students. Over the years Brandon's unique teaching style he has cultivated a diverse atmosphere, community, and a home away from home for his students. With a stellar reputation Brandon has become a coach to quite a few instructors from various gyms throughout NYC.
His laid-back, easy going nature combined with his unique teaching methods, keen eye for technique and excellent work ethic make him one of the most popular and respected coaches in the Muay Thai community.
Brandon has endeavored to create an atmosphere of acceptance and equality within the walls of Evolution Muay Thai. Everybody is treated equally, regardless of gender, sexual orientation, race, religion or political affiliation. No matter what your heritage or background, you will find a home at Evolution Muay Thai. The only pre-requisite is a sense of humor.
"Leave your ego at the door and be prepared to sweat." ~ Brandon Levi
---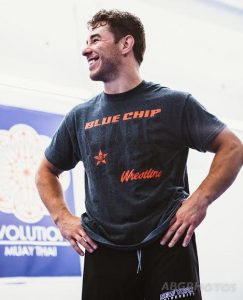 Gene Kobilansky, one of New York University's most decorated wrestlers, is the assistant coach of the NYU Wrestling program and is currently working with the team's middleweights.
A 2007 NYU graduate, Gene was a four-year member of the wrestling team. He compiled 118 career victories, the third-highest total in program history. Gen recorded 64 wins at 141 pounds, the most ever by an NYU grappler, while his 48 victories at 149 pounds remains the second most at that weight class.
During his NYU career, Gene earned University Athletic Association (UAA) Rookie of the Year honors, UAA Most Outstanding Wrestler accolades as a senior, was a three-time National Wrestling Coaches' Association Scholar All-American and UAA All-Academic honoree, an 11-time UAA Athlete of the Week selection, and was the only three-time NCAA Championships qualifier in NYU program history. On May 5th, 2018, Gene Kobilansky was inducted into the NYU Athletics Hall of Fame.
Gene is the founder of Flow Athletics, with the mission of helping athletes improve their mental game. Follow his writing on Nutrition, Mindset, Technique and Supplements on the Flow Athletics blog.
After discovering Brazilian Jiu-Jitsu, Gene went on to win a silver medal at the Pan Am Games in 2012. He also currently does private instruction with aspiring Mixed Martial Arts (MMA) fighters.
Gene Kobilansky is one of our coaches and teaches every Monday night at 7:30pm.
"The art of living is more like wrestling than dancing in that you have to stand firm and be ready for whatever comes your way."~ Marcus Aurelious
---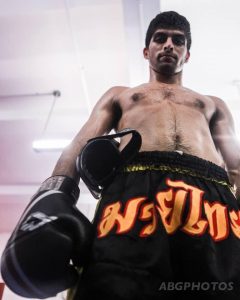 Adel Hussian aka "Hairy Legs" walked into Evolution Muay Thai less than a month after the gym opened in May, 2010. He was 15 years old.
When he joined Evolution, Adel had never done any martial arts before. He worked every day to improve himself, constantly harassing Coach Brandon and the other instructors with a barrage of weird technical questions which he then put into his training.
Before long he had developed his own unique style, one which continues to evolve. Adel is never satisfied with the normal way of doing things. He is always looking to find a better, more economical, or unpredictable approach to fighting.
This, combined with his incredible work ethic, ridiculous stamina and abundance of heart, have earned him his spot as the captain of the fight team.
Winning the WKA Nationals in 2012, placing in 2015 – despite being bumped up to a higher weight class – as well as placing at the WKA World Championships in 2015 solidified his position as one of the top fighters in the country for his weight class.
Today Adel teaches several classes at Evolution Muay Thai, as well as covering for Coach Brandon when he travels with the team. Adel assists in training the other fighters on the team and is available for private lessons.
---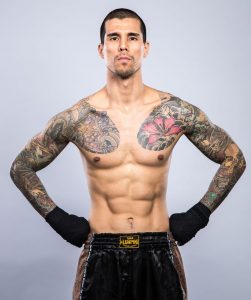 Brian Kemsley Born in Taiwan, but raised in Hong Kong, Brian moved to the US at 15. He was involved in the punk / hardcore music scene in Seattle, Washington and played in bands that toured both domestically and internationally. Brian was introduced to straight edge through the punk scene, and still maintains a drug and alcohol free life style today. He eventually moved to NYC to join another punk band called "Outbreak" and continued touring the world. The hardcore scene can get pretty rough and Brian constantly found himself around violence at shows.
After one particularly nasty incident in which he received stitches in his head thanks to a pair of brass knuckles, Brian decided it was time to learn how to fight for real.
He dabbled in Jeet Kune Do and Brazilian Jiu-Jitsu before discovering Muay Thai.
Once he got a taste for Thai style boxing, Brian was hooked. He eventually joined Evolution Muay Thai in 2014. Other southpaw added to the Evolution fight team.
Since then Brian has won first place in an 8 man WKA tournament 2016, and in 2018 won the USMTO title for middle weight.
Brian returns to South East Asia – particularly Thailand – for three to four months every year. While he is there, he trains at a couple major camps, and brings what he learns back home to NYC.