Welcome to Evolution Muay Thai.
Authentic Muay Thai in the heart of Manhattan. 
Evolution Muay Thai was founded in 2006 by Australian coach, Brandon Levi.
Not just a Thai boxing gym, Evolution offers a comprehensive Mixed Martial Arts training program including Brazilian Jiu-Jitsu, and Wrestling.
The three pillars of modern MMA, all under one roof.
Whether your goal is fitness, self-defense or competition, Evolution has the perfect program for you. Our team of instructors will push you to go harder than you ever thought possible. With our help, you will challenge yourself to be better, more technical and ultimately, more effective in any situation.
We believe that for a martial art to be effective it must be tested. All Evolution coaches are respected competitors in their own right. Everything they teach comes from actual fight experience.
With a strong competition team, great coaching staff and a friendly atmosphere, we believe our members are our greatest asset. Evolution is not just a gym, we are a family. We form friendships during training that can last a lifetime.
With no enrollment fees, cancellation fees, or penalties of any kind, no wonder we have so many good reviews.
---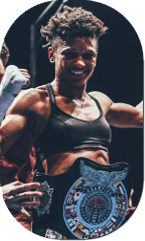 Evolution Muay Thai Alum – Angela "Overkill" Hill
"My husband Adam and I started training with Brandon in 2009. I had my first Muay Thai fight in 2010 when I won the WKA USA 110 lb women's novice championship.
In 2012 I won the WKA USA open women's 120 lb women's tournament, in 2014, the North American Professional 110 lb women's title and in 2014 I won my first MMA match, securing myself a spot on TUF20 and subsequently the UFC.
Brandon and the Evolution team have been there with me every step of the way. I'm proud to be a part of the Evolution family."