Evolution Muay Thai NYC – Class Schedule
Our program includes: Jiu Jitsu, Judo, Wrestling, Conditioning and Muay Thai classes. Call for a FREE trial class and receive the best training in NYC.
---
                   For better viewing please click on the image below to expand class schedule.
---


GYM CLOSED for the following HOLIDAYS 2018:
Memorial Weekend Saturday 5/26 & Monday 5/28
July of 4th Wednesday 7/4
Labor Day Weekend Saturday 9/1 & Monday 9/3
Halloween Wednesday 10/31 closing at 2:30pm
Thanksgiving Thursday 11/22 & Friday 11/23 & Saturday 11/24
Christmas Holiday Monday 12/24 & Tuesday 12/25 & Wednesday 12/26
New Years Eve & New Years Day Monday 12/31 & Tuesday 1/1/19
---
Workout in a fun atmosphere where you'll be encouraged to push yourself to your limit and to never give up. Surrounded by individuals who are looking to get into shape, teammates who are competing, and everyone is working together to take their training to the next level as a team.
Muay Thai classes are the perfect way to lose a few pounds, while learning self defense and having fun in the process. Stepping into a Muay Thai gym can be a little intimidating,  but here at Evolution Muay Thai, we do our best to make you feel at home by cracking a few jokes, keeping things lighthearted and generally doing our best to make your training experience as fun as possible.
Call us at 646-649-3976 for current pricing options, or to book a free trial. Trial lessons are by appointment only and offered to NYC or New Jersey residents. Please note Muay Thai classes (All Levels) listed in white and Grappling classes listed in red are the only classes offered as part of the free trial.
* Those who are attending class for the first time, please arrive at least 15 minutes early for registration.
* Identification will be required upon registration.
* Minors under 18 years old must be accompanied by parent or guardian.
* We are a barefoot gym. Shoes and socks are required to be taken off at the front desk.
* No personal possessions allowed on the mats. Lockers are available. Please bring your own lock.
Private classes are also available whenever group classes are not in session. Prices vary depending on the instructor. If interested in scheduling a private class please email us at info@EvolutionMuayThai.com .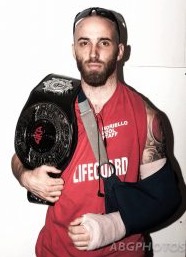 "The training atmosphere and quality of instruction from Brandon Levi is what made me choose Evolution out of all the other Muay Thai gyms in the city. It's setup perfectly for all skill levels so everyone can advance at their own pace. They also have a solid group of fighters who I was fortunate enough to work with who helped me become a WKA a champion and defend another title while I was there. I highly recommend Evolution to everyone who asks me what gym to train at in NYC!" ~ Sean Fagan